Welcome to the Visiting Singers page.
I occasionally host workshops and concerts by other singers or groups. Please 
contact me
 if you'd like to
 join my mailing list.
---
Sunday 16th July 2017: all-day singing workshop led by 

 

internationally acclaimed singer and teacher of 

Georgian polyphonic folk singing.




"Igor Stravinsky was fascinated by it. Kate Bush and Billy Joel fell for it. The Coen brothers used it in The Big Lebowski. What's it all about? The greatest choral music on the planet! Join Carl Linich and learn polyphonic folk songs from the Republic of Georgia (that's where Jason & the Argonauts sought the Golden Fleece). Songs will be taught orally, using word sheets! All you need are open ears & hearts, and the willingness to give it a try. The atmosphere is very relaxed, and all levels of musicianship are welcome."




The Old Chapel, 64 Park Lane, Norwich, NR2 3EF.

10 a.m. to 4 p.m.

Please bring a picnic lunch - tea & coffee provided.

Cost: £25

PLEASE NOTE THIS WORKSHOP IS NOW FULLY BOOKED, AND I AM RUNNING A WAITING LIST.




However... because it has been so popular, I am hosting a 

second workshop led by Carl Linich, 

on Saturday 15th July, 

at Repps with Bastwick village hall, NR29 5JJ 

(just off the A149 between Rollesby and Potter Heigham).

10 a.m. to 4 p.m.

Please bring a plate of food to share, or a picnic lunch - 

tea & coffee provided.



---
Friday 22nd September 2017: 
concert by 
as part of their 
Fall 2017 Tour. 
St Lawrence's Centre, South Walsham, NR13 6DQ.
or combined ticket £30 if you also wish to attend their workshop at 
Castle Acre Community Hall on Sunday 24th September, 10.30 to 4.30. 
---
Saturday 4th November 2017: Gospel workshop led by 




at St Lawrence's Centre, South Walsham, NR13 6DQ.

10 a.m. to 3 p.m.

Cost: £25 (£20 for concessions).




"Tony Backhouse, BA, B.Mus, is one of the leaders in the Australasian a cappella movement.
He founded Australia's foremost

 

a cappella

 

gospel choir

 

Café of the Gate of Salvation

 

in 1986, and directed it for 21 years. He arranged and composed the bulk of their repertoire and still writes music regularly for them. He founded

 

a cappella

 

choir the Honeybees and has directed and sung with reclusive male

 

a cappella

 

group the

 

Heavenly Light Quartet

 since 1996. In demand for his inspiring teaching style, Tony has run more than 2000 vocal workshops throughout the world for the public, for festivals, schools, universities, churches, organisations and corporate training events. 

Tony currently lives in Napier, New Zealand, where he runs a community choir, the Napier Gospel Choir, and an as yet un-named 8 -voice

 

a cappella

 

vocal ensemble." 
---
---
SONG ON THE TIMES
If you came to Windborne's workshop and concert in 2016, you'll remember that they sang several memorable songs, from the UK and USA, campaigning for people's rights. 
They're now putting together a CD and book of the songs they've collected and arranged. To help them to complete this project, you might like to visit INDIEGOGO and look at ways of supporting it.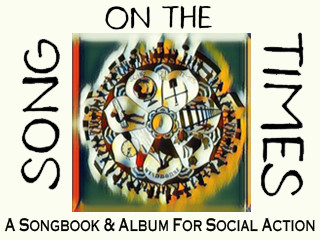 "SONG ON THE TIMES is an illustrated songbook and album that brings together music from working class movements for peoples' rights in the US and UK over 400 years, and sings them for today's struggles. Enjoy Windborne's richly harmonized arrangements, a book of beautifully illustrated lyrics and music, alongside historical context on the songs from activists, singers, and scholars. After this campaign we will sell Song on the Times and donate 50% of profits to social causes."